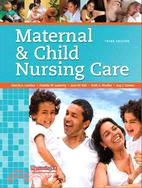 Maternal & Child Nursing Care

ISBN13:9780135078464
出版社:Pearson
裝訂:精裝
出版日:2010/02/24
Nursing care for pregnant women and children is a family-centered process, and Maternal and Child Nursing Care, 3e, is a text that addresses the needs of families across the continuum, from conception through adolescence. The themes that shape this book– nursing care in the community, client education, critical thinking, and evidence-based practice in nursing–will prepare students for the responsibility of managing care for families with diverse healthcare needs, and to work collaboratively with families and other health professionals to enhance care.
Note: This is a standalone book, if you want the bk/access code please order the ISBN below:
0132166011 / 9780132166010 Maternal & Child Nursing Care and MyNursingLab with Pearson eText Student Access Code Card
Package consists of:
0132115115 / 9780132115117 MyNursingLab with Pearson eText -- Access Card -- for Maternal and Child Nursing Care
0135078466 / 9780135078464 Maternal & Child Nursing Care
Marcia L. London Marcia L. London has been able to combine her two greatest passions by being both a nurse caring for children and families, and a teacher for almost 39 years. She received her BSN and School Nurse Certificate from Plattsburgh State University in Plattsburgh, New York, and her MSN in pediatrics as a clinical nurse specialist from the University of Pittsburgh in Pennsylvania She began her nursing career as a pediatric nurse at St. Luke's Hospital in New York City and began her teaching career at Pittsburgh Children's Hospital Affiliate Program, Ms. London began teaching at Beth-El School of Nursing and Health Science in 1974 (now part of the University of Colorado, Colorado Springs) after opening the first intensive care nursery at Memorial Hospital of Colorado Springs. She has served in many faculty and administrative positions at Beth-El, including assistant director of the School of Nursing and coordiantor of undergraduate nursing care of children. Mrs. London maintains her clinical skills working in an urgent care and after-hours clinic and doing undergraduate pediatric clinical supervision. She obtained her postmaster's neonatal nurse practitioner certificate in 1983 and subsequently developed the neonatal nurse practitioner (NNP) program and the master's NNP program at Beth-El. She is active nationally in neonatal nursing and was involved in the development of the Neonatal Nurse Practitioner Educational Program Guidelines. She has contributed five chapters to various neonatal nursing texts. Mrs. London is active in nurse practitioner education in general. She was involved in the revision of the Core Competency for Nurse Practitioners and Curriculum Guidelines for Nurse Practitioner Education, as a member of the Education Committee of the National Organization of Nurse Practitioner Faculties and participated as part of the Core Competency Validation Expert Panel. Mrs. London has also pursued her interest in college student learning by taking doctoral classes in higher education administration and adult learning at the University of Denver in Colorado. She feels fortunate to be involved in the education of her future colleagues. Her teaching philosophy is that, with support, students can achieve more than they may initially believe they are capable of achieving. Mrs. London and her husband David enjoy reading, travel and hockey games. They have two sons. Craig, who lives in Florida, works with internet companies. Matthew works in computer teleresearch. Both are more than willing to give Mom helpful hints about computers.
Patricia A. Wieland Ladewig Patricia A. Wieland Ladewig received her BS from the College of Saint Teresa in Winona, Minnesota. After graduation, she worked as a pediatric nurse before joining the U.S. Air Force. After completing her tour of duty, she relocated to Florida, where she accepted a faculty position at Florida State University. There she embraced teaching as her calling. Over the years, she taught at several schools of nursing while earning her MSN in maternal-newborn nursing from Catholic University of America in Washington, D.C., and her PhD in higher education administration from the University of Denver in Colorado. In addition, she became a women's health nurse practitioner and maintained a part-time clinical practice. In 1988 Dr. Ladewig became the first director of the nursing program at Regis College in Denver and, in 1991, when the college became Regis University, she became dean of the Rueckert-Hartman College for Health Professions. Under her guidance, the School of Nursing has added a graduate program. In addition, the College has added a School of Physical Therapy, a School of Pharmacy, and two departments: the Department of Health Services Administration and Management, and the
購物須知
為了保護您的權益,「三民網路書店」提供會員七日商品鑑賞期(收到商品為起始日)。
若要辦理退貨,請在商品鑑賞期內寄回,且商品必須是全新狀態與完整包裝(商品、附件、發票、隨貨贈品等)否則恕不接受退貨。
外文館商品之書封,為出版社提供之樣本。實際出貨商品,以出版社所提供之現有版本為主。部份書籍,因出版社供應狀況特殊,匯率將依實際狀況做調整。
無庫存之商品,在您完成訂單程序之後,將以空運的方式為你下單調貨。為了縮短等待的時間,建議您將外文書與其他商品分開下單,以獲得最快的取貨速度,平均調貨時間為1~2個月。