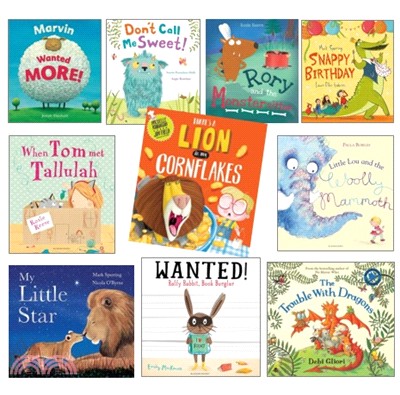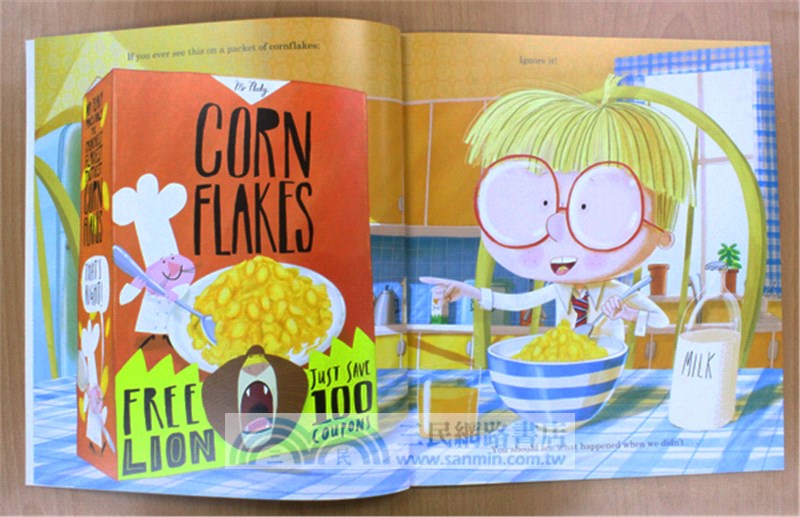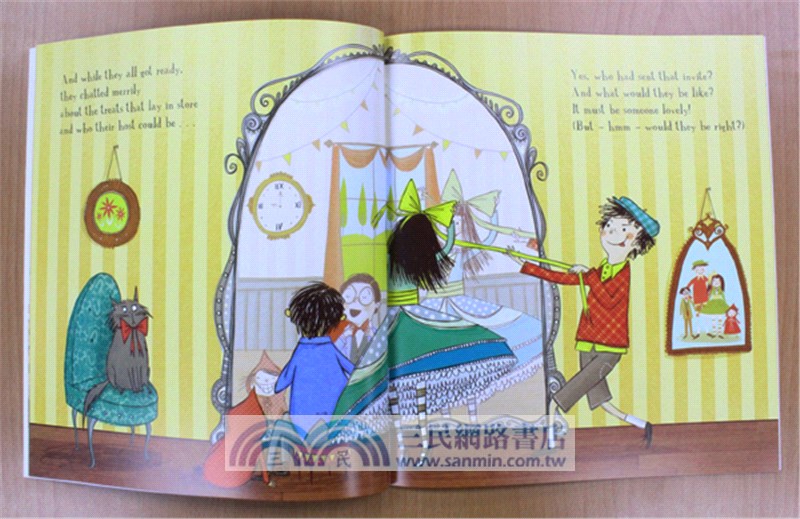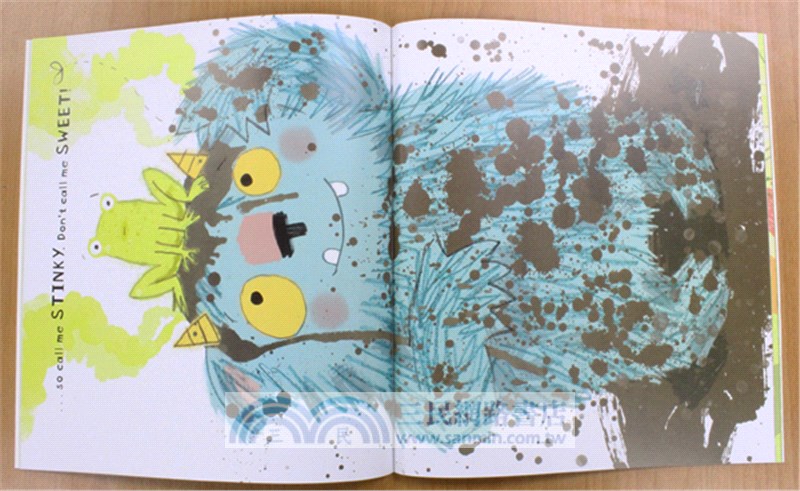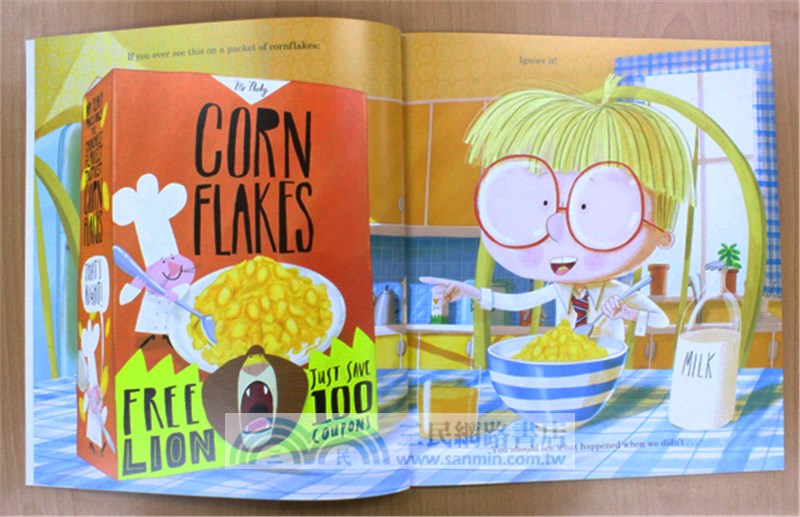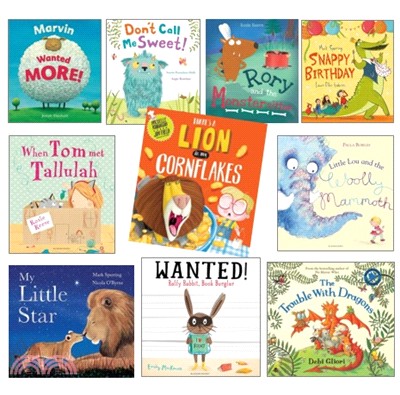 All Creature Great and Small (10本平裝本)動物繪本故事

ISBN13:9781408868089
裝訂:平裝
規格:21.3cm*25.6cm (高/寬)
本數:10
出版日:2016/04/01
適讀年齡:學齡前
促銷優惠:外文館-夏日外文遊樂園--5折起
定 價:NT$3840元
可得紅利積點:29 點
庫存 > 10
Meet a VERY hungry monster, a sheep who just wants MORE, a rabbit who LOVES books and an array of wonderful
 creatures in this fantastic story pack containing 10 brilliant books.

1. Marvin Wanted MORE! by Joseph Theobald
2. When Tom Met Tallulah by Rosie Reeve
3. My Little Star by Mark Sperring, Nicola O'Byrne
4. Rory and the Monstersitter by Rosie Reeve
5. Don't Call Me Sweet! by Smriti Prasadam-Halls, Angie Rozelaar
6. There's a Lion in My Cornflakes by Michelle Robinson, Jim Field
7. Snappy Birthday by Mark Sperring, Laura Ellen Anderson
8. Wanted! Ralfy Rabbit, Book Burglar by Emily MacKenzie
9. The Trouble with Dragons by Debi Gliori
10.Little Lou and the Woolly Mammoth by Paula Bowles

-------------------------------------------

1. Marvin Wanted MORE! by Joseph Theobald
Marvin is not happy. Why are the other sheep bigger than him? And why are they faster than him? And WHY can they jump higher than him?
Something has to change, and Marvin knows exactly how to change it . . . by EATING! Because if he's bigger than the other sheep, then surely he will be better, too?
And after eating the grass and the flowers and the bushes, Marvin wants more. And after eating the trees and the clouds and the sky, Marvin still wants more! But what happens when there's nothing more left for Marvin to eat?
A brilliantly funny picture book about a brilliantly greedy sheep!
2. When Tom Met Tallulah by Rosie Reeve
When Tom meets Tallulah, he's just a shy little kitten but Tallulah knows just how to make him feel at home. Tallulah, you see, is very good at 'CAT'. She can tell exactly what Tom wants from a simple 'purr' or 'miaow'. They are the perfect team, best friends until . . . Tom begins to learn 'HUMAN'. Suddenly, Tom is not quite as cute as he first seemed. SOMEONE has not been nice . . .
Find out just how much mischief one rascally cat can get up to in this rebelliously funny picture book.
3. My Little Star by Mark Sperring, Nicola O'Byrne
When the day is done and sleep draws near,
When the moon's aglow and stars appear.
I'll whisper something crystal clear -
Words meant just for you to hear.
As nighttime falls and the moon starts to shine, parents and children across the world snuggle up together. So cuddle close, because it's time for a bedtime story.
With a gentle message and beautifully tender illustrations, My Little Star is the perfect way to end the day with your own little star.
4. Rory and the Monstersitter by Rosie Reeve
Rory loves to cook. He's always inventing new recipes like blue pancakes, cheese bats and hairy cakes . . .
One evening, when his mum and dad go out to dinner, leaving Rory and his siblings with the babysitter, tummies start to rumble.
It's time for Rory to cook up a real monster feast!
A hilarious and unexpected tale – with a twist of pepper!
5. Don't Call Me Sweet! by Smriti Prasadam-Halls, Angie Rozelaar
I'm a giant monster, with sharp, sharp claws.
I've got big, spiky teeth and loud, loud roars.
Which is why I say, to everyone I meet . . .
CALL ME SCARY . . . DON'T CALL ME SWEET!
Everyone thinks that little monsters are cute and cuddly, but this monster's grumpy and grouchy. Honest! He does REAL monster stuff, like stomping around and eating squishy, squelchy food like bug eye stew. He's brave, too - he's not scared of ANYTHING. Not even big, hairy ogres . . .
. . . Wait, is that a big, hairy ogre? HELP!
6. There's a Lion in My Cornflakes by Michelle Robinson, Jim Field
Have you ever collected coupons from a cereal box? Maybe you were saving them up for a book or a toy.
Well, when Dan and his brother decide to collect 100 coupons so that they can have their very own lion, they assume the task will be easy enough.
How wrong can you be?!
A wildly wacky story where anything can happen, There's a Lion in My Cornflakes brings together bestselling author Michelle Robinson and award-winning illustrator Jim Field for the very first time, with hilarious results.
7. Snappy Birthday by Mark Sperring, Laura Ellen Anderson
One day an invitation
Came to number 24.
It was from a next-door neighbour
Who they'd never met before.
The children can't wait - a birthday party? What fun! But their next-door neighbour is not all he seems. For starters, there's his large snout and very sharp teeth. Not to mention his scaly skin . . . Yes, there's no two ways about it, he's definitely a CROCODILE. Erm, crocodiles don't eat children, do they?
A riotous romp of a picture book, superbly written by Mark Sperring and brilliantly illustrated by Laura Anderson. Snappy Birthday is the perfect present for any child - whether it's their birthday, or not!
8. Wanted! Ralfy Rabbit, Book Burglar by Emily MacKenzie
Some rabbits dream about lettuces and carrots, others dream of flowering meadows and juicy dandelions, but Ralfy dreams only of books. In fact, he doesn't just dream about them, he wants to read them ALL THE TIME. Soon his obsession sends him spiralling into a life of crime!
A wonderfully funny story from a talented new author/illustrator.
9. The Trouble with Dragons by Debi Gliori
The world is populated by some beastly dragons who care nothing for how much they pollute the oceans, chop down the trees, gobble up all the food and use everything up without stopping to think.
Those dragons need to wake up to what they are doing to their world before it is too late . . .
An energy-filled picture book that addresses concerns about the environment in the most child-centric and delightful way possible.
10.Little Lou and the Woolly Mammoth by Paula Bowles
When Little Lou finds a wriggly, squiggly piece of wool amongst a pile of toys, she curiously gives it a tug. But - what's this? The wool tugs back - there's something at the other end! And as Little Lou follows the wool, she realises that it's attached to . . . A giant woolly mammoth! Quick, RUN!
But soon the woolly mammoth gets snagged, and he starts to get smaller . . . And smaller . . . And smaller. In fact, he is so small that he doesn't really seem so scary anymore - he's just the right size for a cuddle!
A charming tale of fear, friendship and not judging a book by it's cover, beautifully illustrated by Paula Bowles.
商品除瑕疵品外,恕不接受退換貨
因拍攝略有色差,圖片僅供參考,顏色請以實際收到商品為準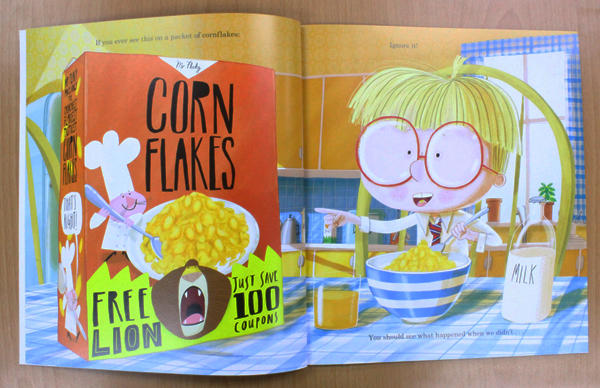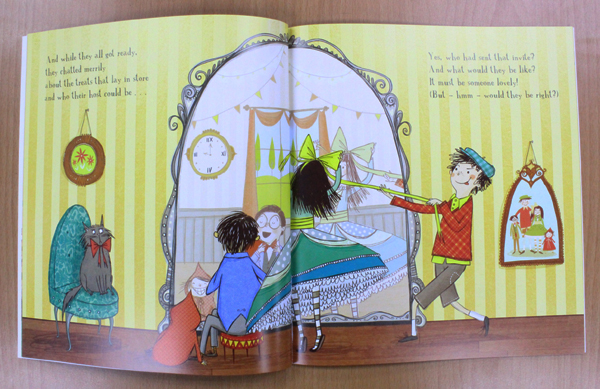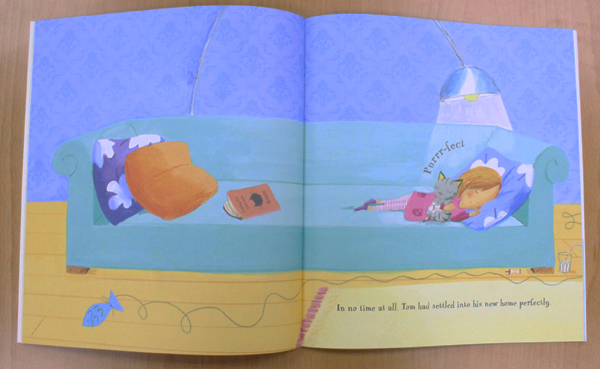 購物須知
為了保護您的權益,「三民網路書店」提供會員七日商品鑑賞期(收到商品為起始日)。
若要辦理退貨,請在商品鑑賞期內寄回,且商品必須是全新狀態與完整包裝(商品、附件、發票、隨貨贈品等)否則恕不接受退貨。
外文館商品之書封,為出版社提供之樣本。實際出貨商品,以出版社所提供之現有版本為主。部份書籍,因出版社供應狀況特殊,匯率將依實際狀況做調整。
無庫存之商品,在您完成訂單程序之後,將以空運的方式為你下單調貨。為了縮短等待的時間,建議您將外文書與其他商品分開下單,以獲得最快的取貨速度,平均調貨時間為1~2個月。