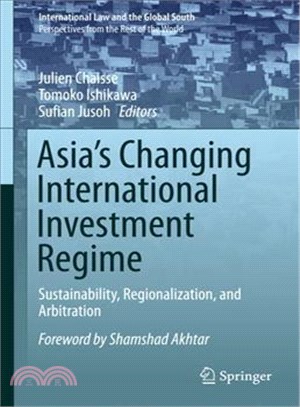 Asia's Changing International Investment Regime ― Sustainability, Regionalization, and Arbitration

ISBN13:9789811058813
出版社:Springer Verlag
裝訂:精裝
規格:23.5cm*15.5cm (高/寬)
出版日:2017/11/02
定 價:NT$5805元
若需訂購本書,請電洽網路書店客服02-25006600(分機130、131)。
This book focuses on the Asia-Pacific region, delineating the evolving dynamics of foreign investment in the region. It examines the relationship between efforts to increase foreign direct investment (FDI) and efforts to improve governance and inclusive growth and development. Against a background of rapidly developing international investment law, it emphasises the need to strike a balance between these domestic and international legal frameworks, seeking to promote both foreign investment and the laws and policies necessary to regulate investments and investor conduct. Foreign investments play a pivotal role in most countries' political economies, and in order to encourage cross-border capital flows, countries have taken various steps, such as revising their domestic legal frameworks, liberalising rules on inward and outward investment, and creating special regimes that provide incentives and protections for foreign investment. Alongside the developments in domestic laws, countries have also taken bilateral and multilateral action, including entering into trade and/or investment agreements.
Further, the book explores regional investment trends, highlights specific features of Asia-Pacific investment laws and treaties, and analyses policy implications. It addresses four overarching themes: the trends (how Asia-Pacific's agreements compare with recent global trends in the evolving rules on foreign investment); what China is doing; current investment arbitration practice in Asia; and the importance of regionalising investment law in the Asia-Pacific region. In addition, it identifies and discusses the research and policy gaps that should be filled in order to promote more sustainable and responsible investment.
The book offers a valuable resource not only for academics and students, but also for trade and investment officials, policy-makers, diplomats, economists, lawyers, think tanks, and business leaders interested in the governance and regulation of foreign investment, economic policy reforms, and the development of new types of investment agreements.
Julien Chaisse is a Professor of Law at the Chinese University of Hong Kong (CUHK), Faculty of Law, Hong Kong. He is an award-winning scholar of international law with a special focus on the regulation and development of economic globalisation. Prior to joining the CUHK in 2009, Dr Chaisse was a senior research fellow at the World Trade Institute (Switzerland). Dr Chaisse has served as Director of the CUHK's Centre for Financial Regulation and Economic Development since 2013. He has established forward-looking legal projects and events at the CUHK, including the series "Asia FDI Forum," which has become the most prominent conference on foreign investment regulation in Asia. In addition to his professorship, Dr Chaisse is an experienced arbitrator and a leading consultant to international organisations, governments, multinational law firms and private investors. He is also a member of the World Economic Forum's International Trade and Investment Council.
Tomoko Ishikawa is an Associate Professor at Nagoya University in Japan. She is a member of the Legal Advisory Committee of the Energy Charter Treaty and an arbitrator at Shenzhen Court of International Arbitration. Her professional experience includes serving as a judge at the Tokyo District Court and holding the position of Deputy Director at the International Legal Affairs Bureau of the Ministry of Foreign Affairs of Japan. Her most recent publications include: 'Provisional Application of Treaties at the Crossroads between International and Domestic Law' 31(2) ICSID Review pp. 270–289 (2016); 'The Rise of the Notion of Illegitimate Debt' 6(3) Accounting, Economics and Law' pp. 189–217 (2016) and 'Restitution as a "Second Chance" for Investor-State Relations: Restitution and Monetary Damages as Sequential Options' Vol. 3 McGill Journal of Dispute Resolution pp. 154–175 (2017).
Sufian Jusoh is the Deputy Director and a Senior Fellow at the Institute of Malaysia and International Studies, Universiti Kebangsaan Malaysia. Dr. Jusoh has been a consultant to many countries and international organisations such as the World Bank, the Asian Development Bank, ASEAN, the World Trade Organisation and the World Intellectual Property Organisation. He plays a key role in the reform of the investment laws in Myanmar, Timor Leste, Laos and the Federated States of Micronesia. Dr. Jusoh holds an LL.B from Cardiff Law School, an LL.M from University College London and a PhD in Law from University of Bern, Switzerland. He is the co-author of the book "The ASEAN Comprehensive Investment Agreement The Regionalisation of Laws and Policy on Foreign Investment" (Elgar, 2016).

購物須知
為了保護您的權益,「三民網路書店」提供會員七日商品鑑賞期(收到商品為起始日)。
若要辦理退貨,請在商品鑑賞期內寄回,且商品必須是全新狀態與完整包裝(商品、附件、發票、隨貨贈品等)否則恕不接受退貨。
外文書商品之書封,為出版社提供之樣本。實際出貨商品,以出版社所提供之現有版本為主。部份書籍,因出版社供應狀況特殊,匯率將依實際狀況做調整。
無庫存之商品,在您完成訂單程序之後,將以空運的方式為你下單調貨。為了縮短等待的時間,建議您將外文書與其他商品分開下單,以獲得最快的取貨速度,平均調貨時間為1~2個月。