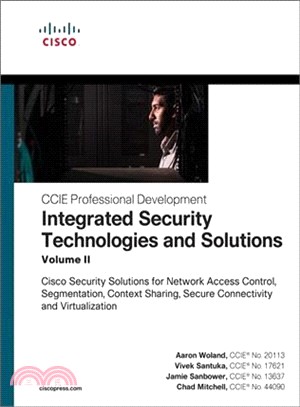 Integrated Security Technologies and Solutions ― Cisco Security Solutions for Network Access Control, Segmentation, Context Sharing, Secure Connectivity and Virtualization

ISBN13:9781587147074
出版社:Cisco Systems
裝訂/頁數:平裝/600頁
出版日:2018/11/11
定 價:NT$3600元
可得紅利積點:97 點
無庫存,下單後進貨(採購期約45個工作天)
Integrated Security Technologies and Solutions - Volume II is part of the Cisco CCIE Professional Development Series from Cisco Press, which offers expert-level instruction in security design, deployment, integration and support methodologies to help security professionals manage complex solutions and prepare for their CCIE exams. A one-stop expert level guide for all aspects of Cisco Security, this guide will help security pros succeed in their day-to-day jobs as they get ready for their CCIE Security written and lab exams.
This guide has been written by a team of CCIEs who are world-class experts in their respective Cisco Security disciplines, including experts who were involved in creating the new CCIE Security 5.0 blueprint and possess unsurpassed understanding of its requirements. Each chapter starts with relevant theory, progresses through configuration examples and applications, and concludes with practical troubleshooting sections.
Volume 1 focuses on Identity, Context Sharing, Encryption, Secure Connectivity and Virtualization Security. With a strong focus on inter-product integration, it also shows how to combine formerly disparate systems into a seamless, coherent next-generation security solution.
Aaron Woland, CCIER No. 20113, is a principal engineer in Cisco's Advanced Threat Security group and works with Cisco's largest customers all over the world. His primary job responsibilities include security design, solution enhancements, standards development, advanced threat solution design, endpoint security, and futures.
Aaron joined Cisco in 2005 and is currently a member of numerous security advisory boards and standards body working groups. Prior to joining Cisco, Aaron spent 12 years as a consultant and technical trainer.
Aaron's other publications include Integrated Security Technologies and Solutions - Volume I; both editions of Cisco ISE for BYOD and Secure Unified Access; Cisco Next- Generation Security Solutions: All-in-one Cisco ASA FirePOWER Services, NGIPS and AMP; CCNP Security SISAS 300-208 Official Cert Guide; the CCNA Security 210-260 Complete Video Course; and many published white papers and design guides.
Aaron is one of only five inaugural members of the Hall of Fame Elite for Distinguished Speakers at Cisco Live, and he is a security columnist for Network World, where he blogs on all things related to security. His other certifications include GHIC, GCFE, GSEC, CEH, MCSE, VCP, CCSP, CCNP, and CCDP, among others.
You can follow Aaron on Twitter: @aaronwoland.
Vivek Santuka, CCIER No. 17621, is a consulting systems engineer at Cisco and is a security consultant to some of Cisco's largest customers. He has over 13 years of experience in security, focusing on identity management and access control. Vivek is a member of multiple technical advisory groups.
Vivek holds two CCIE certifications: Security and Routing and Switching. In addition, he holds RHCE and CISSP certifications and is a Distinguished Speaker at Cisco Live.
Vivek is also the coauthor of the Cisco Press books AAA Identity Management Security and Integrated Security Technologies and Solutions – Volume I.
You can follow Vivek on Twitter: @vsantuka.
Jamie Sanbower, CCIER No. 13637 (Routing and Switching, Security, and Wireless), is a principal systems engineer for Cisco's Global Security Architecture Team. Jamie has been with Cisco since 2010 and is currently a technical leader and member of numerous advisory and working groups.
With over 15 years of technical experience in the networking and security industry, Jamie has developed, designed, implemented, and operated enterprise network and security solutions for a wide variety of large clients. He is coauthor of the Cisco Press book Integrated Security Technologies and Solutions - Volume I.
Jamie is a dynamic presenter and is a Cisco Live Distinguished Speaker. Prior to Cisco, Jamie had various roles, including director of a cyber security practice, senior security consultant, and senior network engineer.
Chad Mitchell, CCIER No. 44090, is a technical solutions architect at Cisco supporting the Department of Defense and supporting agencies. In his daily role, he supports the sales teams as a technical resource for all Cisco security products and serves as the Identity Services Engine subject matter expert for Cisco's US Public Sector team.
Chad has been with Cisco since 2013 supporting the DoD and other customers and is a contributing member to the Policy & Access Technical Advisors Group. Prior to joining Cisco, Chad spent 7 years as a deployment engineer and systems administrator implementing Cisco security products for customers.
While his primary area of expertise is enterprise network access control with ISE, Chad is well versed on all Cisco security solutions such as ASA firewalls, Firepower NGFW/IPS/IDS, and Stealthwatch, to name a few; he also has first-hand experience deploying these solutions in customer production environments.
Chad's other certifications include CCDA, CCNP, Network+, Security+, and many other industry certifications.

購物須知
為了保護您的權益,「三民網路書店」提供會員七日商品鑑賞期(收到商品為起始日)。
若要辦理退貨,請在商品鑑賞期內寄回,且商品必須是全新狀態與完整包裝(商品、附件、發票、隨貨贈品等)否則恕不接受退貨。
外文館商品之書封,為出版社提供之樣本。實際出貨商品,以出版社所提供之現有版本為主。部份書籍,因出版社供應狀況特殊,匯率將依實際狀況做調整。
無庫存之商品,在您完成訂單程序之後,將以空運的方式為你下單調貨。為了縮短等待的時間,建議您將外文書與其他商品分開下單,以獲得最快的取貨速度,平均調貨時間為1~2個月。