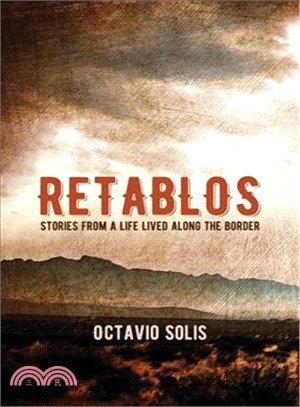 Retablos ― Stories from a Life Lived Along the Border

ISBN13:9780872867864
裝訂/頁數:平裝/176頁
規格:20.3cm*14cm (高/寬)
出版日:2018/10/16
定 價:NT$558元
可得紅利積點:15 點
無庫存,下單後進貨(採購期約45個工作天)
Seminal moments, rites of passage, crystalline vignettes—a memoir about growing up brown at the U.S./Mexico border.
The tradition of retablo painting dates back to the Spanish Conquest in both Mexico and the U.S. Southwest. Humble ex-votos, retablos are usually painted on repurposed metal, and in one small tableau they tell the story of a crisis, and offer thanks for its successful resolution.
In this uniquely framed memoir, playwright Octavio Solis channels his youth in El Paso, Texas. Like traditional retablos, the rituals of childhood and rites of passage are remembered as singular, dramatic events, self-contained episodes with life-changing reverberations.
Living in a home just a mile from the Rio Grande, Octavio is a skinny brown kid on the border, growing up among those who live there, and those passing through on their way North. From the first terrible self-awareness of racism to inspired afternoons playing air trumpet with Herb Alpert, from an innocent game of hide-and-seek to the discovery of a Mexican girl hiding in the cotton fields, Solis reflects on the moments of trauma and transformation that shaped him into a man.
Praise for Octavio Solis's Retablos:
"Unpretentiously and with an unerring accuracy of tone and rhythm, Solis slowly builds what amounts to a storybook cathedral. We inhabit a border world rich in characters, lush with details, playful and poignant, a border that refutes the stereotypes and divisions smaller minds create. Solis reminds us that sometimes the most profound truths are best told with crafted fictions—and he is a master at it."—Julia Alvarez , author of How the García Girls Lost Their Accents
"The murky flow of the Rio Grande River, the border patrol we call la migra, demons, a petty crime of stolen candy, street urchins, family squabbles, eccentric neighbors, and bike rides in which dust envelops a skinny kid named Octavio Solis. When he stops peddling years later, he'll spank the dust from his clothes, but not all of it. Some of it clings to his very soul, and will cling to us, the reader, in this tender and perceptive memoir. This is American and Mexican literature a stone's throw from the always hustling El Paso border."—Gary Soto, author of The Elements of San Joaquin
"Octavio Solis isn't a painter, but he ought to be. He's not a poet, but he could be. His isn't fiction or memoir but, like dreams, might be either. His vision of El Paso and the border is as though through an undulating haze of desert heat."—Dagoberto Gilb, author of Before the End, After the Beginning: Stories
"Solis has written beautifully about his youth on the border, never flinching from his childish blunders, nor failing to find soul in the frailties of others. These stories soar and shimmer with poetry and a playwright's gift for dramatic compression, comedy and pathos running through them arm in arm. Retablos is deeply moving, and a joy."—Elizabeth McKenzie, author of The Portable Veblen: A Novel
"To enter into this book is like walking into a shrine, walls lined with beautiful paintings, each one colorful and visceral, depicting memories, life on the border, death and sadness and joy. This is one of the most memorable books written about the borderlands in years"—Daniel Chacón, author of Hotel Juárez: Stories, Rooms and Loops
"The short-short format is often called flash fiction these days, but Octavio Solis' stories are more like slow fiction: a moment unfolds, revealing a life, a way of life, generations. He explores the borderlands, not just the streets of El Paso where he grew up, just across the Rio Grande from Mexico, but also those liminal zones between fiction and nonfiction, childhood and adulthood, and magic and melancholy. Small but mighty, these stories will stay with you long after the moment has passed."—Frances Lefkowitz, author of To Have Not: A Memoir
"A retablo is a devotional painting, playwright Octavio Solis tells us. In this poignantly written, heart-warming coming-of-age memoir, Solis pays tribute to those cornerstone moments in his life, negotiating borders at once personal and cultural, with such color that the reader is left spellbound. Astonishing, what more can I say?"—Greg Sarris, author of How a Mountain was Made: Stories
Author of over 20 plays, Octavio Solis is considered one of the most prominent Latino playwrights in America. With works that both draw on and transcend the Mexican-American experience, he examines the darkness, magic and humor of humanity with brutal honesty and intensity, crossing cultural and aesthetic boundaries. His works, which include Alicia's Miracle, Se Llama Cristina, John Steinbeck's The Pastures of Heaven, Ghosts of the River, Quixote, Lydia, June in a Box, Lethe, Marfa Lights, Gibraltar, The Ballad of Pancho and Lucy, The 7 Visions of Encarnación, Bethlehem, Dreamlandia, El Otro, Man of the Flesh, Prospect, El Paso Blue, Santos & Santos, and La Posada Mágica have been mounted at the California Shakespeare Theatre, Mark Taper Forum, Yale Repertory Theatre, the Oregon Shakespeare Festival, and other venues nationwide. Among his many awards and grants, Solis has received an NEA Playwriting Fellowship, the Kennedy Center's Roger L. Stevens award, the TCG/NEA Theatre Artists in Residence Grant, the National Latino Playwriting Award, and the PEN Center USA Award for Drama. 
His fiction has been published in the Chicago Quarterly Review, Catamaran Literary Reader, Eleven Eleven, the Louisville Review, Huizache: The Magazine of Latino Literature, Arroyo Literary Review and Zyzzyva.
購物須知
為了保護您的權益,「三民網路書店」提供會員七日商品鑑賞期(收到商品為起始日)。
若要辦理退貨,請在商品鑑賞期內寄回,且商品必須是全新狀態與完整包裝(商品、附件、發票、隨貨贈品等)否則恕不接受退貨。
外文館商品之書封,為出版社提供之樣本。實際出貨商品,以出版社所提供之現有版本為主。部份書籍,因出版社供應狀況特殊,匯率將依實際狀況做調整。
無庫存之商品,在您完成訂單程序之後,將以空運的方式為你下單調貨。為了縮短等待的時間,建議您將外文書與其他商品分開下單,以獲得最快的取貨速度,平均調貨時間為1~2個月。