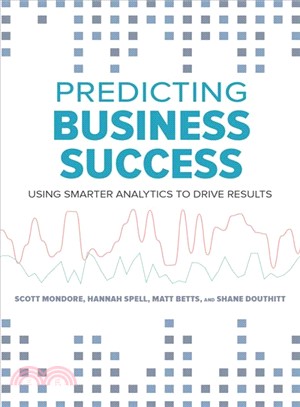 Predicting Business Success ― Using Smarter Analytics to Drive Results

ISBN13:9781586445379
裝訂/頁數:平裝/220頁
規格:22.9cm*15.2cm (高/寬)
出版日:2018/06/18
定 價:NT$1350元
可得紅利積點:36 點
無庫存,下單後進貨(等候期約30-45個工作天)
We know HR practices have a significant impact on an organization's bottom line, but too often HR leaders fail to demonstrate direct connections to the business metrics that matter most to executives. Predicting Business Success goes beyond the usual slicing and dicing of HR data to show HR professionals how to definitively connect the dots between people data and business outcomes with a straightforward approach for scaling analytics to all leaders and all levels, detailed strategies for collecting key data elements and making talent profiles predictive, and proven guidelines for harnessing data for selection and recruitment, onboarding, employee surveys, training needs, and much more.
Matt Betts, Ph.D., consultant, delivers support to all SMD's clients including on-going survey maintenance and development, performing advanced analytics, creating presentations, and presenting results. Prior to joining SMD, he worked for State Farm and Corporate Executive Board (CEB) providing internal consulting, leading various research projects, and conducting advanced analytics predicting business outcomes. He has experience with survey design and implementation, competency modeling, and HR measurement and analytics. Matt has presented several articles on topics including future time perspective, workplace stress, retirement intentions, and dramatic events at the workplace. He holds a master's degree and doctorate in Industrial/Organizational Psychology from the Georgia Institute of Technology.

More than 25 years in the areas of measurement, talent management, executive assessment and coaching, and organizational development at global Fortune 50 companies provided Dr. Shane Douthitt with invaluable experience, but more importantly fueled a desire. A desire to infuse innovation in a field (HR) that had been stagnant entirely too long. Focused on removing the divide between HR and ROI, Shane can be described as an out-of-the-box thinker, analytics expert, and technology enabler. He first expressed his vision to convert the HR department into a profit center by co-authoring Investing in What Matters: Linking Employees to Business Outcomes (SHRM, 2009) and followed it up with Business-Focused HR: 11 Processes to Drive Results (SHRM, 2011). Both have been Top 10 SHRM best-sellers for multiple years. Shane has continued to express his provocative views on how and why it's critical for HR to employ a different approach. He has published several articles in leading journals on a variety of topics, including HR strategy, measurement, teams, individual differences and diversity, employee selection, group dynamics, and leadership development.

Dr. Scott Mondore is a predictive analytics expert, technology innovator, best-selling author and speaker with over 17 years of experience in the areas of HR technology, analytics, strategy, talent management, measurement, organizational development and customer experience. Scott is a pioneer in developing the new way for HR to approach surveys and assessments: moving from a focus on the outcomes of surveys to utilizing surveys and assessments to impact business outcomes. As a way to lead this change, he and Dr. Douthitt harnessed their HR expertise, business experience, and advanced knowledge of statistical methodologies to co-author two books, Investing in What Matters: Linking Employees to Business Outcomes (SHRM, 2009) and Business-Focused HR: 11 Processes to Drive Results (SHRM, 2011), have both been Top 10 SHRM best-sellers for multiple years. Recognized for his unique opinion and deep expertise, he was a recipient of the Walker Award for "best advances in state-of-the-art HR practice" and is called upon frequently to speak. He has also published numerous articles in prestigious business and psychology journals in the areas of leadership effectiveness, employee litigation, assessments and employee safety. Prior to founding SMD, he served as East Region President for a large survey/assessment company. Before that, Scott worked as a Corporate Strategy Director at Maersk, Inc. He also worked as an Organizational Effectiveness Leader at UPS, focusing on employee assessment and measurement as well as working as a consultant to large and small organizations in both the private and public sector. Scott holds a master's degree and doctorate in applied psychology from the University of Georgia.

Hannah Spell, Ph.D., director of research and analytics, provides senior-level consulting support to all of SMD's clients including, but not limited to: analyzing data, building presentations, presenting results, and supporting any follow-up activities and events.
購物須知
為了保護您的權益,「三民網路書店」提供會員七日商品鑑賞期(收到商品為起始日)。
若要辦理退貨,請在商品鑑賞期內寄回,且商品必須是全新狀態與完整包裝(商品、附件、發票、隨貨贈品等)否則恕不接受退貨。
外文書商品之書封,為出版社提供之樣本。實際出貨商品,以出版社所提供之現有版本為主。部份書籍,因出版社供應狀況特殊,匯率將依實際狀況做調整。
無庫存之商品,在您完成訂單程序之後,將以空運的方式為你下單調貨。為了縮短等待的時間,建議您將外文書與其他商品分開下單,以獲得最快的取貨速度,平均調貨時間為1~2個月。